Blaine Hess, CFP®, is a Co-founder of the Hess Segal Group, LLC. Blaine has helped his clients strive to achieve financial freedom since 1994, where his career began at Smith Barney's Atlanta based subsidiary, Robinson Humphrey, Inc. His holistic wealth management philosophy allows him to "partner" with each individual or family to better understand their goals and dreams. He leverages his strong background in Portfolio Management along with experience as a Financial Planner to help develop a customized Financial Blueprint, which when implemented, will help guide investors through the complexities they encounter when navigating through their Wealth Management concerns.
In 2002, Blaine earned the designation of Portfolio Manager after completing the advanced training of the Custom Portfolio program offered at Morgan Stanley. Blaine also achieved his Certified Financial Planner Designation™ that same year. With experience from two of the largest Wall Street firms, Blaine has found that he can better service his client's interest as an Independent Advisor.
Blaine graduated from Georgia State University where he earned a B.A. in Economics.
Blaine lives in Marietta, Georgia with his wife, Julie, and daughter, Alexandra. He is active in his local community through volunteer work in many areas. Blaine has been a multi-year board member for the Rotary Club of East Cobb as well the club's president.   He also participates on the Board of Directors for the Rally Foundation since its creation in 2006.  The foundation is a non-profit organization which raises awareness and funds specifically for childhood cancer research to find better treatments and cures for childhood cancers.  Finally, his true passion for volunteer work is found working with kids and helping them develop in the sport of wrestling and life. Blaine has been the head coach of the Cobb County Pope High School youth wrestling program since 2003. Before coming to Pope, Blaine spent seven years as the head coach of the youth wrestling program at his high school alma mater, Wheeler High School.  Blaine and his wife, Julie, are also active members of Johnson Ferry.
Professional Certifications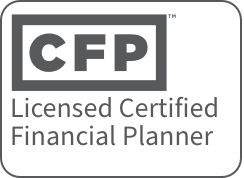 Registrations & Licenses